"One Piece", and today, we are here with a very amazing article because opening 23 has been revealed, which is "Dreamin' On", and I have thoughts. Many thoughts, some good, some bad, and since this channel very much acts as my "One Piece" thought dump, well then that means that you are lucky enough to get slash unlucky enough to be subjected to hearing them.
And I should say immediately that this opening has a lot going for it, which does surprise me, because when I saw a preview for it a couple of weeks ago or so now, I felt that it would be another pretty meh "One Piece" opening, which does occur roughly every two to three openings, or one that just doesn't particularly strike me anyway. But to be fair, it was a fairly low-quality preview, which might be part of the big reason why I think I was, for the most part, kind of blown away by "Dreamin' On".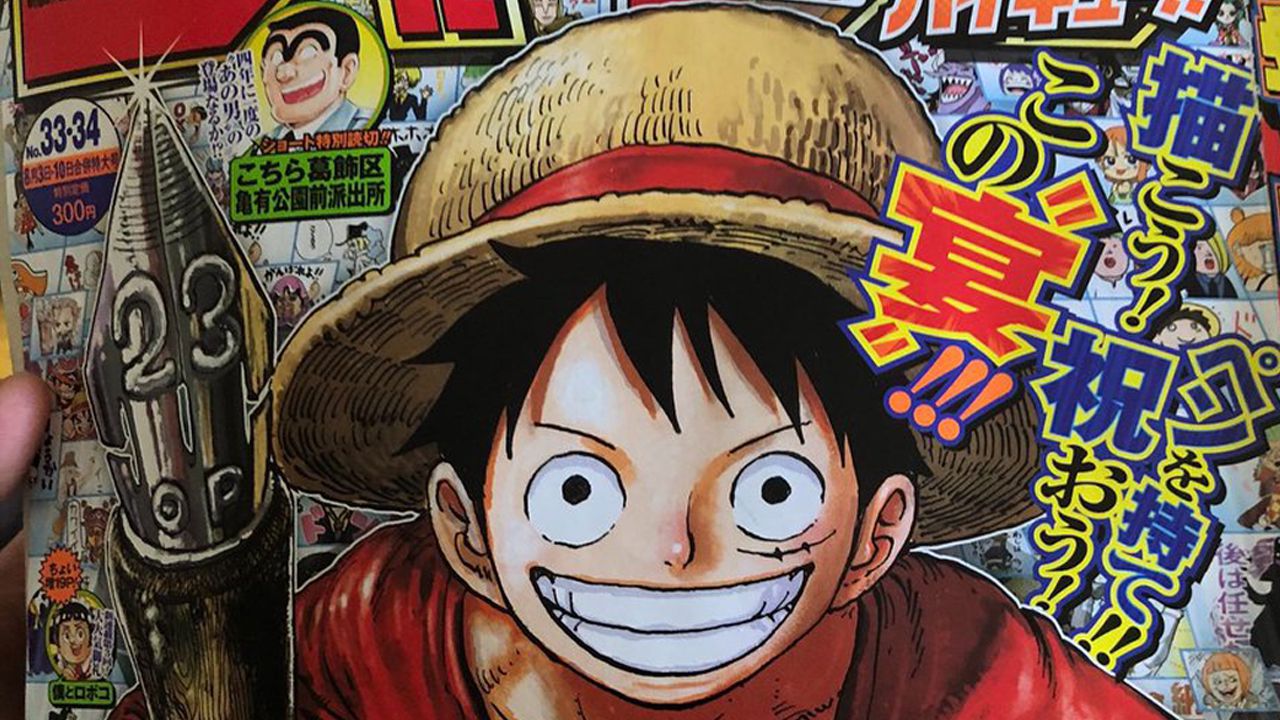 And in fact, it spoils content that this anime opening might not even get around to covering. And it also follows the terrible example that was set by "Over the top" with the opening filler, which is just pure evil genius from Toei. Like say what you want about how annoying it is, but you have to admit that his company has single-handedly managed to innovate the entire concept of filler, and at a certain point, you just need to respect the hustle.
We'll get into both of those things in a bit though, because I do want to start with some positives, and a big one would be the song itself because I think I really like it. This is the sort of song that appeals to me because it is super high-energy, and the sort of music that I can see myself going running to. That is something I also really enjoyed "Over The Top", "SuperPowers" and even "Hope".So this last batch of openings has really hit me right in the musical feels. What I will say in strong favor of "Dreamin' On" though, is that I enjoyed the song the very first time I heard it, which is very rare forme, I must emphasize that. I especially love seeing all of the Straw Hats the very beginning in their various Wano raid outfits launching towards the camera.
That's a technique that has been used a lot before, specifically in "One Piece" openings, but it works especially well with the attention to detail when it comes to the fluidity of movement. And in general, there's a lot that serves this opening well artistically, one of which being the sheer mastery of coloron full display throughout. Everything about the use of color in opening 23 feels very cohesive, and I'd like to single out this shot of Big Mom, Kaido, and Orochi as an example. Pink, blue, and green, all vibrant, and very nicely neon.The pink and blue contrast to each other, but in combination, they are also able to form a contrasting background of Orochi's green.
And there were some other great examples as well, like the orange and purple hues placed across Kinemonin that one shot, and I really do enjoy stuff like this, because it sounds really basic, but the color is super easy to mess up. I do it all the time in YouTube thumbnails. So good job to "Dreamin'On" all around with that.
But now let's move on to some special controversial-ish stuff, which to be fair, none of this should be unexpected, not at this point anyway, but this opening has an incredible amount of very striking spoilers. In one case, a literally striking spoiler in it. And look, if you're an anime-only watcher you don't wanna hear about this sort of stuff, then here is your fair warning to click on another one of my fantastic videos, but I won't be speaking about anything that we did not quite blatantly see in this opening, so don't accuse me of spoilers you choose to proceed.
And I would say that there were three, maybe four, very major, major things that were spoiled in "Dreamin' On".And I'll start with a basic and debatable one first, which is that it goes ahead and fully reveals Kozuki Oden to us. He's just there in all of his glory, which I have to say, is super hype for me to see, but his actual reveal is an awfully long way away from where the anime is at this point. And I guess it's not the biggest deal in the world because of the anime practically sort of revealed him the past. Do you know all of that questionable silhouetted filler they added of him?
Whereas in the manga, those were very brief and complete shadows. And I know that this probably isn't something that bothers a lot of anime-only viewers, but Oda is very, very intentional when it comes to how he reveals his characters. The moment where their faces become known to us for the very first time is meant to be an engineered experience that gives us all an important first overall impression of whoever it may be. That is fine. However, I do have quite serious doubt over whether or not we'll still even be watching this opening when Oden'sreveal actually happens, which makes me question the entire idea of putting him and a lot of other stuff into it. And that's because when you look back at "Over The Top", there are events in that opening that still have yet to be animated. We've moved on to an entirely new opening, and we still haven't covered everything that "Over The Top" presented us with.
And as a manga reader, seeing "Over The Top" for the first time was this insane experience, because it included something that we'd only read a month prior. So I think that "Over the top" definitely bit of special spoilers than it could chew, and "Dreamin' On" might be in the same boat because there is a lot of stuff in this opening that I am almost certain I'll not get to see unless the opening is planned for an extraordinarily long run, like a record-breaking run. And there is a lot of stuff well, it's not just Oden. And the most obvious of the obvious would be everything that takes place in the flashback realm. We have a lot of brief scenes the young RogerPirates, young Whitebeard, and even this amazing clash of Roger versus Whitebeard, which once again, I have to say, it looks stunning. Seeing it in this opening is everything would have wanted it to be after having read it. Although if anything, with this rate at which Wano is going with animating key scenes, I'd expect the actual thing to be even better than this.
So there is a lot of hype for that. But I don't get why you would put it in this opening. One of the greatest features that "One Piece" capitalizes on is surprise moments. You know when a chapter drops and something world-shaking happens, seemingly out of nowhere. Those are the times when "OnePiece" is trending on Twitter and breaking the internet, or whatever metric you want to use. And I don't know, putting stuff like that in an opening…Look, I guess it certainly builds expectations and hype from watching it, but it removes that element of surprise. I mean, it actively tells people what is going to happen in the future, which I suppose is called a spoiler.
So after having seen this opening, there is an expectation that this exact clash will happen in the future, rather than it being an amazing surprise gift. And it almost makes me long for the days of "Wake Up!", which had some pretty absurd scenes of the Straw Hats fighting the admirals and stuff. All of this cool stuff should be in opening 24, you know, whenever that happens, because I feel very strongly that we are not going to get too far into act three or even into act three at all while this opening is still playing, which is where all of these events just so happens to take place. And so I guess there's a silver lining in that because here's the really good thing about "Dreamin' On" when it comes to spoilers.
That is the sort of stuff that should be playing during the chorus, nota mundane scene of say, Zoro having a casual conversation with Hiyori. It honestly reminds me of AMVsthat I would make back in high school. But then when you get to the chorus, the part of the song that the rest of the songs been building up to, also known as the main meat of the music, well, when you get to that, we get served the equivalent of a bland frozen meal. With that said though, let's end on a positive.